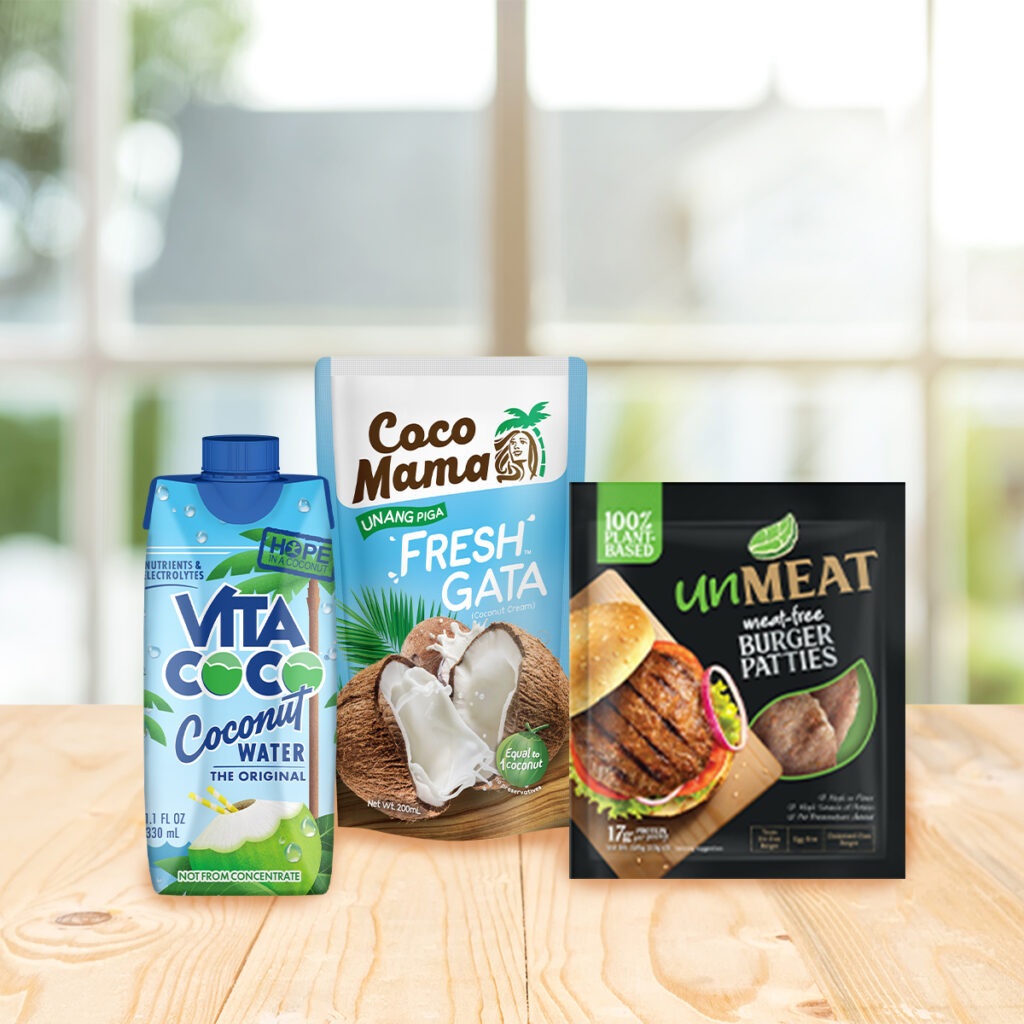 How would you like to buy your favorite plant-based products and help the environment by having a coconut tree planted on your behalf?
To celebrate Earth Week 2021, Century Pacific Food Inc (CNPF), one of the largest branded food companies in the Philippines, is enjoining consumers to join its mission to give back to Mother Earth and to Philippine coconut farmers by planting trees to increase coconut supply, help the environment, and minimize carbon emissions.
CNPF, in partnership with non-profit organization HOPE, encourages and challenges its customers to plant a tree, support our local farmers, and minimize carbon emissions through its portfolio of healthy brands – Coco Mama, Vita Coco, and unMeat.
Coco Mama and Vita Coco offer consumers a convenient way to enjoy the goodness of coconuts – rich in potassium, high in antioxidants, and with healthy benefits for the heart, kidney, and blood sugar. UnMeat, a 100% plant-based brand, is a healthy meat alternative made with non-GMO plant-based ingredients, zero cholesterol and trans-fat, while remaining a good source of protein and fiber.
The company is offering special product bundles of these brands, and each bundle comes with a guarantee that one tree will be planted on behalf of the customers. Proceeds for the promo will go to the coconut farmers of Sarangani.
The bundle offerings are in line with CNPF's broader sustainability program, specifically a long-term commitment to provide Philippine farmers 100,000 free coconut seedlings to farmers every year, over the next 5 to 8 years.
On top of expanding coconut supply in South Central Mindanao and helping augment the income of 16,000 farmers and their families, the new trees are expected to offset about 416,680 metric tons of greenhouse gas emissions, allowing CNPF's coconut business to be "carbon neutral" by 2028.
To join and support this project, consumers simply need to purchase bundles of Coco Mama, Vita Coco, and unMeat at Century Pacific's food stores in Shopee and Lazada. The bundles are available from April 19 to 25.
Coco Mama Fresh Gata, the coconut cream that has first pressed quality, joins this campaign to help protect our environment. For every purchase of 5 pieces Coco Mama 200 mL, CNPF guarantees one tree will be planted on behalf of the customer.
Hydrate naturally with the coconut goodness of Vita Coco as it offers 11+1 Coconut Water 330ml Promo Pack which entitles customers to one tree to be planted on their behalf. With this offer, you are not only boosting and loading your body with electrolytes but also protecting and nourishing Mother Earth.
Flexitarians, and fans of plant-based meals can choose from two bundles of unMeat: Pack 1 – Burger, Nuggets, and Giniling; and Pack 2 – Sausage, Nuggets, and Giniling. For every purchase of one bundle, a tree will be planted by CNPF.
So have a meaningful Earth Week celebration by shopping with these healthy brands that are not just good for you, but good for the planet too.
The Coco Mama, Vita Coco, and unMeat bundle offers are available until April 25 on the Century Food Store and SWIFT Official Store in Shopee, Lazada, and Swift Meat E-tindahan.