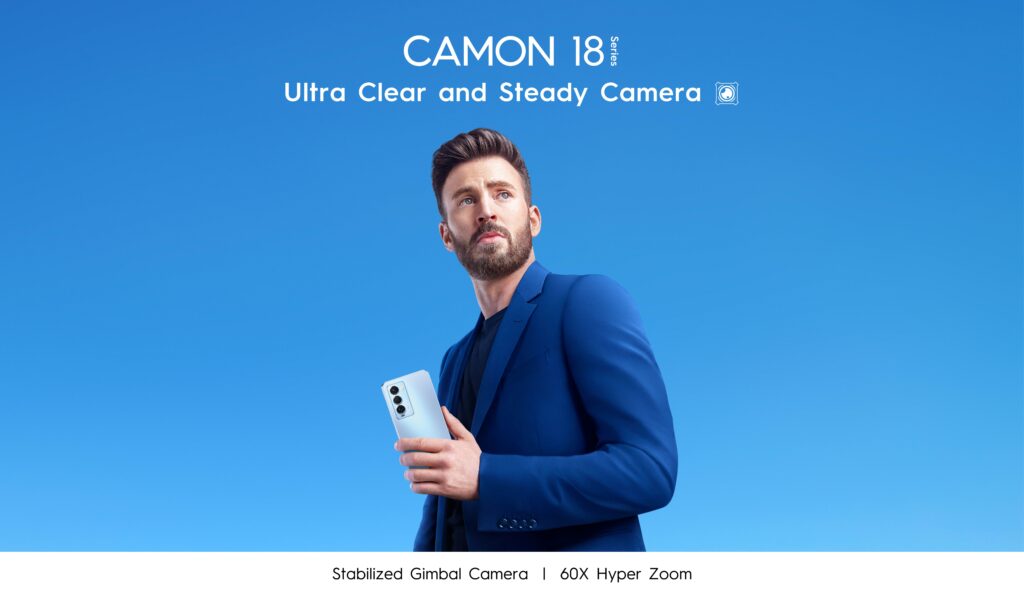 TECNO, a global rising premium smartphone brand for young at heart consumers, has recently unveiled the latest addition to its signature pro-camera phone CAMON series, the CAMON 18 series, aiming to bring improved overall imaging capabilities to its users undergirded by the best-in-class mobile camera technology in the market.
Chris Evans, best known for his role as Captain America in the Marvel Universe series of films, continues to be the brand ambassador in TECNO's essential new product launch. TECNO CAMON series has been well-known for its excellent photography experience and has driven constant innovation with the latest trends and consumer demand in mind. The CAMON18 series resembles TECNO's another breakthrough of its commitment.
In a 2021 study done by BlinkAI, 41% of respondents stated that higher quality photos and videos would be a compelling reason for them to upgrade from their current phone. Additionally, 44% chose better image quality for night photo or night video mode as the most persuasive camera enhancement. With these newest trends in mind, TECNO CAMON18 series furthers its grand vision to empower consumers to record and tell their stories through the power of imaging.
Just as Chris Evans has shared in an interview, cameras play an enormous role in his life, and he commented that "After the pandemic, camera technology has become invaluable, The number of connections and friendships that were maintained through the power of video calls and sharing images online was so important in keeping us connected with our network and stay in positive mindset."
In line with current trends in the smartphone photography scene, the TECNO Camon 18 comes with three different rear camera lenses that allow users to experiment with creative photography and film ideas. The concept of a "gimbal camera" has always been popular in professional photography, as photographers use external equipment to stabilize the pictures. TECNO has put its resources to great use and integrated a stabilized gimbal camera in the CAMON 18 series with an improved stabilization effect by 300% as compared to previous models; Allowing users to shoot just like a professional and safe keep their memories. Equipped with a wide-angle lens, the shooting area increases by 65%, providing users with a broader vision as they bring along the TECNO CAMON 18 smartphone to capture their adventures.
In Chris Evans' words, "Images are a good way to give people a voice because it's an essential medium to try and help people understand your perspective and experience." Images are powerful, and TECNO recognizes the need to empower its users to use smartphone cameras to find their voice in their individuality. With its new Portrait Beauty functions, the TECNO CAMON 18 front camera is embedded with new AI intelligent male and female identification, allowing the smartphone to recognize user features and tailor the photography to suit their faces. In addition, it is a brilliant model with a more compact and convenient user interface so that the user can utilize the features with ease.
The latest addition to the CAMON smartphone family also comes with a security keyboard that protects the user's security, preventing hackers from gaining access to the user's passwords and confidential details. Furthermore, along with a 120Hz refresh rate for its 6.7″ screen, the display on the CAMON 18 will be more fluid and provide a more intuitive experience for the user.
With such exciting technologies integrated into its cameras, the latest innovations and valuable features of the CAMON 18 series are tailored to meet the challenges and needs of the current generation. As a result, TECNO will continue to be a smartphone brand that focuses on camera technology and delivers the best quality images to its users.
Pre-Order your CAMON 18 Now!
CAMON 18 Premier, which features a Stabilized Gimbal Camera, will be available for pre-order from November 6-10, 2021 at the TECNO Mobile PH Official Store in Shopee Mall and the TECNO Mobile Flagship Store in Lazada. The pre-order price for CAMON 18 Premier is Php 14,990.
Also available for pre-order are CAMON 18P, with a 48MP clear and steady video camera and 13MP 50mm pro portrait camera, as well as the CAMON 18 variant. Both smartphones may be pre-ordered between November 6-19, 2021. CAMON 18P may be pre-ordered at the TECNO Mobile PH Official Store in Shopee Mall, and will be priced at Php 10,490. The CAMON 18 variant will be available for the pre-order price of Php 8,999 at the TECNO Mobile Flagship Store in Lazada.
CAMON 18 is already being called the "Movie Master", and CAMON 18 Premier's Stabilized Gimbal Camera is a highly-anticipated feature that filmmakers, content creators, and video enthusiasts must watch out for.
With this soon-to-launch CAMON 18 smartphone series, TECNO makes it possible for every Filipino to experience mobile technological innovations that can help improve the way they capture memories through videos and photographs, at a fraction of the price offered by other brands. Through this latest offering, TECNO Mobile stays true to its commitment to bring innovation to global emerging markets, as the premium smartphone brand for all.
CAMON 18 Regular Pricing and Availability
CAMON 18 Premier will be available in the market for regular selling beginning November 11, 2021 at the TECNO Mobile PH Official Store in Shopee Mall and the TECNO Mobile Flagship Store in Lazada. CAMON 18 Premier will retail for Php 15,990.
CAMON 18P will be available for regular selling starting November 20 at the TECNO Mobile PH Official Store in Shopee Mall, and December 1 at the TECNO Mobile Flagship Store in Lazada, with an SRP of Php 10,990.
CAMON 18 will also begin regular selling on November 20 at the TECNO Mobile Flagship Store in Lazada. This smartphone will have the regular price of Php 9,499.
The CAMON 18 Series will be available via KimStore, Rulls Shopee, Rulls Lazada, Ephone Shopee, Ephone Lazada, Cellboy Shopee, Cellboy Lazada, Wirecomm Shopee, Wirecomm Lazada, and Audionet as well. You may also shop at the TECNO Mobile Concept Store in SM North Edsa and TECNO Mobile Kiosks in Market Market, Mall of Asia, SM Sta Mesa, SM San Lazaro, SM Pampanga, SM Dasmariñas, SM Batangas, and SM Rosario.
Be sure to stay updated on all the latest promos when you like and follow TECNO Mobile Philippines on Facebook. Visit www.tecno-mobile.com/ph to learn more about your favorite TECNO Mobile smartphones and gadgets.