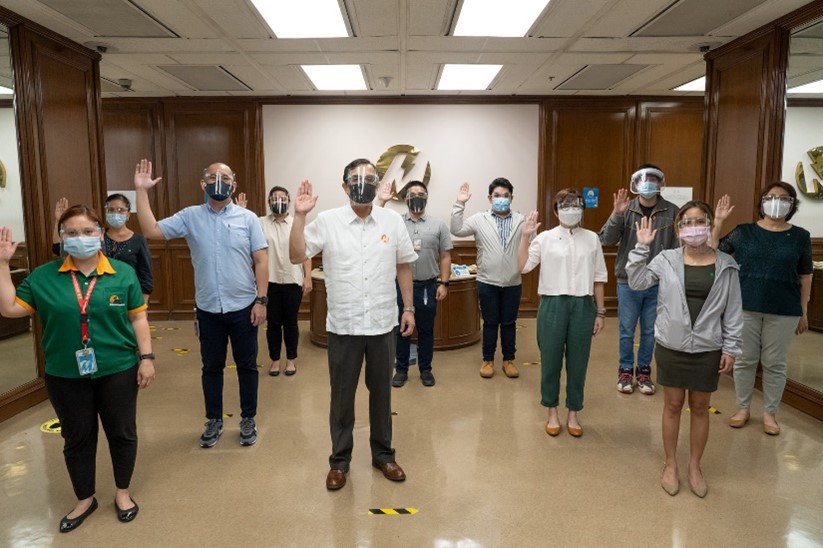 The Manila Electric Company (Meralco) joined many around the world in proudly celebrating International Women's Day (IWD). IWD recognizes women's social, economic, cultural, and political achievements and marks a call to action for raising awareness on gender diversity and inclusion.
Held annually every March 8th, this year's IWD campaign was themed Choose To Challenge – a beckon for everyone to call out gender bias and inequality, to choose, seek out, and celebrate women's accomplishments, and to help in creating a more inclusive world.
Participating individuals and organizations showed their solidarity by taking photos of themselves striking the Choose To Challenge pose – one hand raised high – and sharing these on social media using the hashtags #ChooseToChallenge and #IWD2021.
The Philippines' largest electric distribution utility actively participated in the program, posting photos on Workplace (the Company's internal social network platform) with its own hashtag– #ChooseToMbrace. Employees from different Meralco units, business centers, sector offices, and even subsidiary companies struck poses as they expressed oneness with the movement.
This campaign marked the launch of Meralco's Gender Diversity and Inclusion (D&I) Program. Called #Mbrace, the program aims to develop and implement initiatives that will help in building a more gender-balanced workplace.
In his message of support, Meralco President and CEO Atty. Ray C. Espinosa said, "Today, March 8, we underscore Meralco's commitment to build a more diverse and inclusive workplace – where our people are celebrated, can thrive, and can be their best selves. This International Women's Day, let us #ChooseToMbrace, as we help shape an inclusive and sustainable world for all."
Highly progressive in its hiring practices, the power company advocates diversity across its ranks. In 2020, women comprised 31.7% of the Meralco group's (Meralco and its subsidiaries) workforce, which is well above the global energy sector average of 11%.
In a related development, Meralco also became a pioneer signatory of the United Nations' Women's Empowerment Principles (WEPs) in March 2020, signifying a commitment to foster business practices that empower women and to build a gender-enlightened workplace. Meralco was one of the first three Philippine signatories, and the only company from the energy sector in 2020.