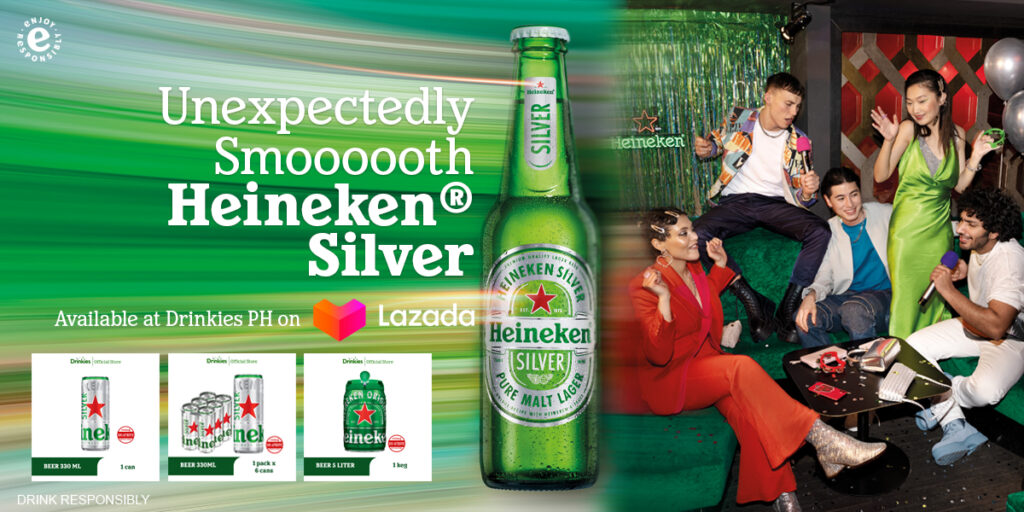 Manila, Philippines: Heineken®, maker of the world's leading premium lager, is making the hottest season of the year cooler than ever now that the Summer Smooooth, Extra Refreshing beer Heineken Silver is available on the Drinkies PH flagship store on Lazada.
A smooth, easy-to-drink, refreshing beer that's brewed to your palate, Heineken Silver is the perfect summer beverage, especially when you're chilling with friends and loved ones. While it's still made from Heineken's own special A-Yeast that gives each brew the characteristic balanced taste, it only has an ABV of 4% and contains 35 kcal per 100mL and zero fat or sugar, so it's effortless to drink with a crisp and subtle finish—perfect when in good company.
Drinkies PH is making sure you'll never run out of this extra refreshing beer at your summer parties, big celebrations, and casual hangouts with its bulk order options. At the Lazada store, you can order Heineken Silver beer in 330mL cans or bottles for as low as ₱439.00 for a pack of six or ₱1,619.00 for a pack of 24. You'll also have an option to stock up on Heineken Silver beers in 24-pack 500mL cans for ₱2,389.00. Drinkies PH is also offering the Heineken Monobundle that lets you enjoy 6 bottles each of Heineken Silver Beer, Heineken Original, and Heineken 0.0 for ₱1,299.00.
Getting your Heineken Silver at Drinkies PH also gives you more perks like paying in installments. For instance, you can purchase the 24-pack Heineken Silver beers and only pay ₱555.86/month for three months. More modes of payment are also accepted through the Lazada app like cash on delivery, and credit card and online payment. You can also earn user points and claim vouchers like free shipping when you purchase over the app. Plus, these drinks are delivered right in your doorstep for your convenience.
Let Heineken Silver help you cool down amid all the heat. Grab the Summer Smooooth, Extra Refreshing beer online through Lazada's Drinkies PH or at 7-Eleven stores and other groceries and supermarkets near you.