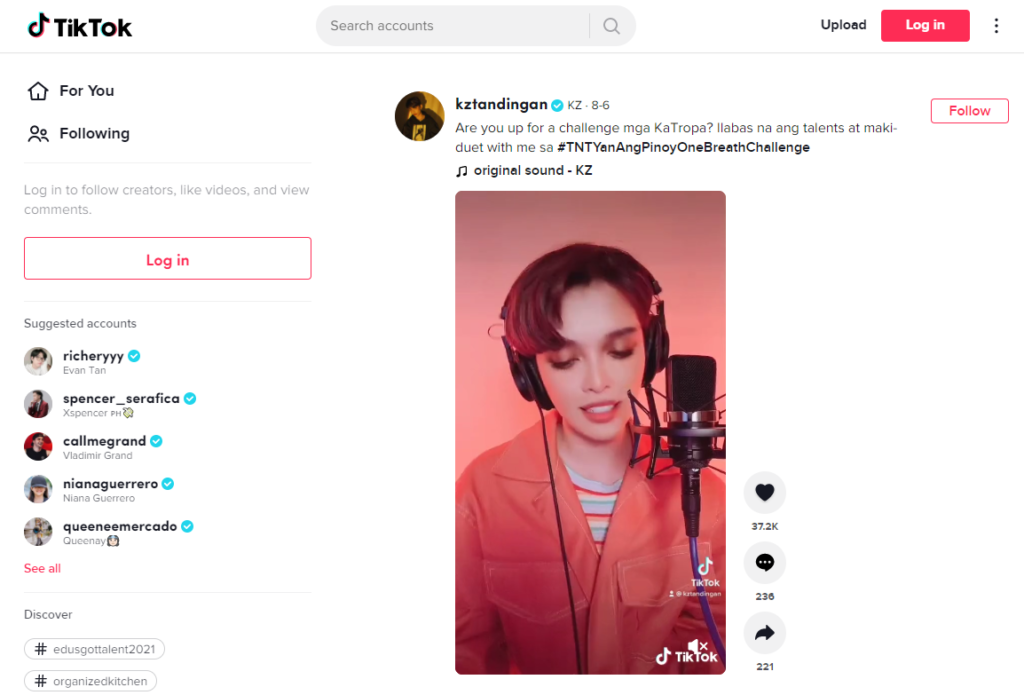 Celebs and online creators put their rapping skills to the test by taking on the latest TikTok trend, the #TNTYanAngPinoyOneBreathChallenge featuring the mobile brand's anthem of TNT's 'Yan ang Pinoy by Asia's Soul Supreme KZ Tandingan.
"Yan Ang Pinoy" is the latest campaign of mobile brand TNT, which aims to reignite Filipino pride amid the challenges we face and encourage everyone to keep on chasing their dreams. Through the campaign, TNT and KZ also seek to positively impact especially the Kabataang Pinoys who may be looking for reassurance in pursuing their dreams.
KZ kicked off the #TNTYanAngPinoyOneBreathChallenge on TikTok, an increasingly popular platform among Filipinos who want to promote and share good vibes through creative content like fun challenges and trends. For the challenge, KZ rapped "Yan Ang Pinoy" in only one breath.
https://vt.tiktok.com/ZGJDrsyb5/
With this fun and proudly Pinoy challenge, the #TNTYanAngPinoyOneBreathChallenge has inspired other celebrities like Darren Espanto, Mimiyuuuh and, other creators to take on it and showcase the talent of Kabataang Pinoys.
Mimiyuhh:
[https://vt.tiktok.com/ZGJDqs1U9/]
Darren Espanto:
[https://vt.tiktok.com/ZGJDE7KYH/]
PoPinoy Contestant:
[https://vt.tiktok.com/ZSJ7R2qx2/]
[https://vt.tiktok.com/ZSJ7RrMR4/]
[https://vt.tiktok.com/ZSJ7RLetU/]
Jump in on the challenge on TikTok using the hashtag #TNTYanAngPinoyOneBreathChallenge for a chance to be selected and featured by KZ Tandingan! Follow TNT's official social media accounts for more updates.
Be inspired with TNT Double GIGA Stories
TNT lets you spread fun, good vibes, and inspiration on TikTok and all your favorite apps with TNT Double GIGA Stories. For only Php99, TNT subscribers get 2 GB per day for Facebook, Instagram, Twitter, TikTok, and Kumu for seven days, plus 2 GB of open-access data — for a total of 16 GB of data for social media.
Subscribers can register to TNT Double GIGA Stories on the GigaLife App, which is downloadable on Google Play Store and Apple App Store. Users can also register to GIGA Stories by dialing *123#.