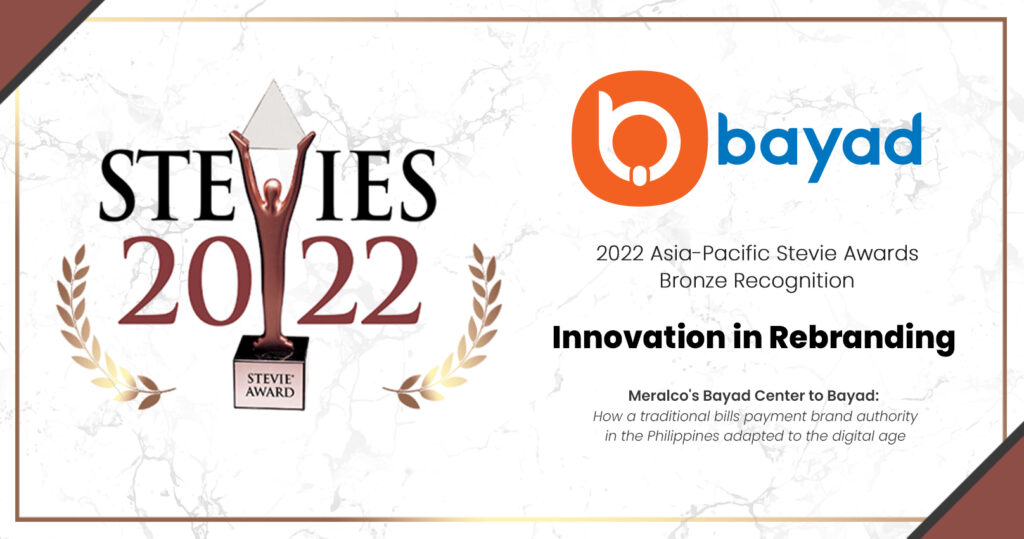 Bayad, the biggest and widest multi-channel payment platform in the Philippines and a subsidiary of Manila Electric Company (Meralco), emerged among renowned marketing brands during the 2022 Asia Pacific Stevie Awards, a premier award-giving program designed to reward and celebrate the positive contributions of organizations and professionals across 29 nations of the Asia Pacific region.
Judged by an independent panel of industry leaders and marketing experts, Bayad bags the Bronze Stevie in the Innovation in Rebranding category, where it articulates its brand transformation in its essay entry titled Meralco's Bayad Center to Bayad: How a traditional bills payment brand authority in the Philippines adapted to the digital age. 
The said essay underscored how the company transformed itself from a traditional over the counter payment center franchisor (Bayad Center) into a full-service fintech company (Bayad), offering a full suite of financial products and services which introduces its own digital channels, the Bayad App and Bayad Online.
"This award is a humble recognition on our continuous drive for innovation as we propel programs that aim to preserve the heritage and equity of our 25-year old business, while also strengthening our advocacies on financial inclusion during this digital age.", says Wendell P. Labre, Bayad AVP for Corporate Branding & Marketing Services.
Dennis S. Gatuslao, Bayad Chief Commercial & Marketing Officer, also shared "We are deeply honored for this recognition. As the pioneering brand for payments, we have embarked on this rebranding journey as we aim to intensify digital trust among our stakeholders and adapt to the ever-changing needs of the communities that we serve."
Bayad's President and CEO Lawrence Y. Ferrer added, "Winning the Bronze Stevie is a testament of our customer-centric initiatives aligned with our proactive move for digital innovation. We continue to strategize and build on our brand agility as we uphold to our mission of bringing quality financial services closer to Filipinos."