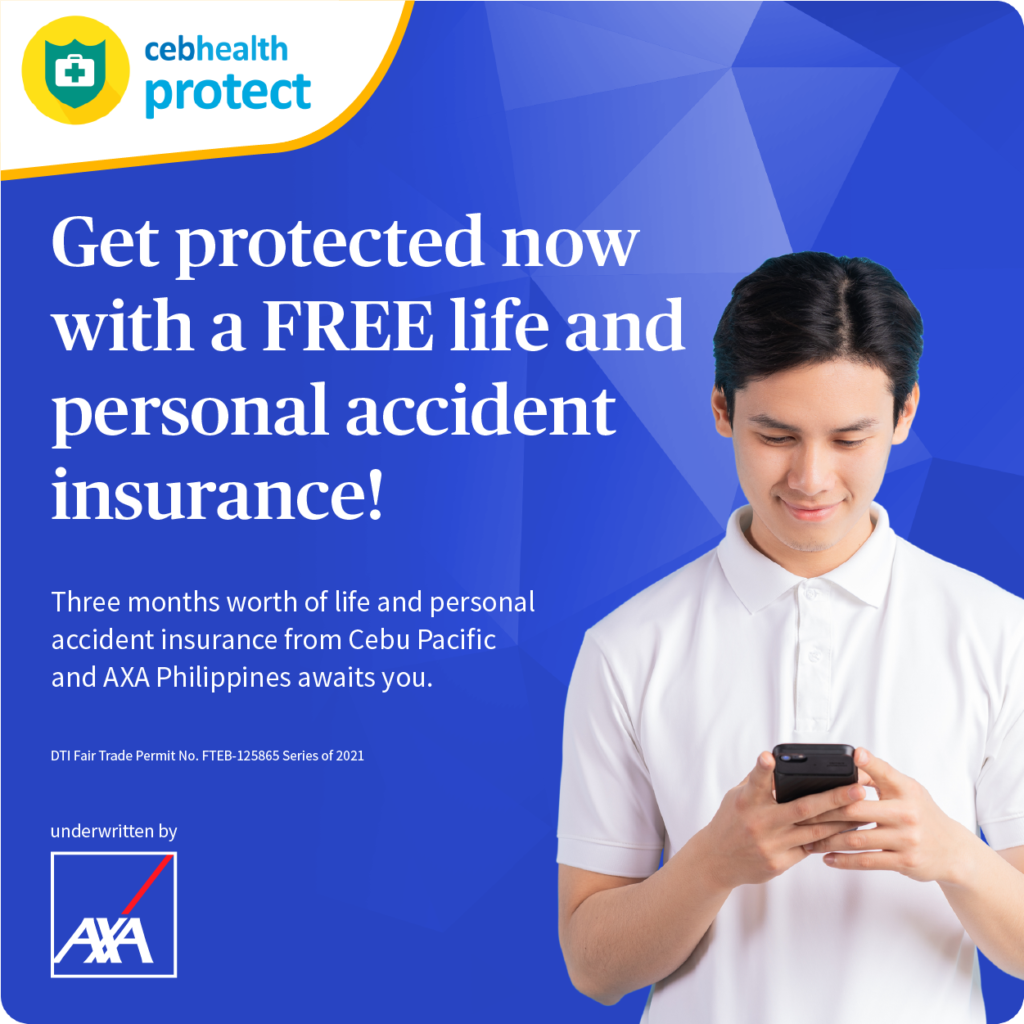 To mark their first partnership anniversary, AXA Philippines, one of the country's leading insurance providers, together with the country's leading airline, Cebu Pacific (CEB), extend the opportunity for CEB customers to get free insurance coverage up until December 31, 2021.
The special anniversary offer provides a life insurance coverage and personal accident insurance, each worth P25,000, with a coverage period of 3 months. This one-time offer is open to all CEB fliers aged 18 to 60 years old -all they need to do is sign up via https://bit.ly/CEBxAXAAnniv while slots are available.
Thru this partnership, every Juan now has access to an affordable critical illness plan with CEB Health Protect. This is the first of many non-travel insurance products that will be made available to address the health and financial needs of Filipinos.
The pandemic made many people rethink their habits, better prepare for the unexpected, and prioritize their health and wellness. "Protecting our health at all costs and preparing for accidents and emergencies have become more relevant than ever. With CEB Health Protect, we want to help every Juan protect their health and finances from unexpected situations – whether in their daily activities or while traveling. We are pleased to have found a partner in Cebu Pacific who also prioritizes safety and addresses the needs of its passengers even beyond travel," said Rahul Hora, president and CEO of AXA Philippines.
"As we continue to listen to our customers, we recognize the need to prioritize every Juan's health more so during this time. We are happy to keep offering CEB Health Protect and to be celebrating a milestone with our partner, AXA Philippines, to better equip Filipinos for unforeseen circumstances," said Candice Iyog, vice president for marketing and customer experience at Cebu Pacific.
CEB Health Protect offers value-for-money coverage for top three (3) critical illnesses like cancer, heart attack, and stroke. It also provides insurance benefits of up to P1 million, allowing families to receive up to 20% coverage for nine (9) minor critical conditions.
CEB Health Protect is a very affordable plan for every Juan who may wish to protect themselves and their loved ones. Every Juan can tailor fit the insurance coverage according to their personal needs and budget, with coverage available for as low as 18/day and flexible payment terms from monthly, quarterly, semi-annually and annually.
Selecting and purchasing CEB Health Protect can also be safely and conveniently done online on the AXA website, similar to how Cebu Pacific customers seamlessly book and manage their Cebu Pacific flights.
With CEB Health Protect from AXA Philippines and Cebu Pacific, every Juan can now protect their health and be prepared for just about anything in life or while travelling.
For more information on AXA Philippines, visit www.axa.com.ph.