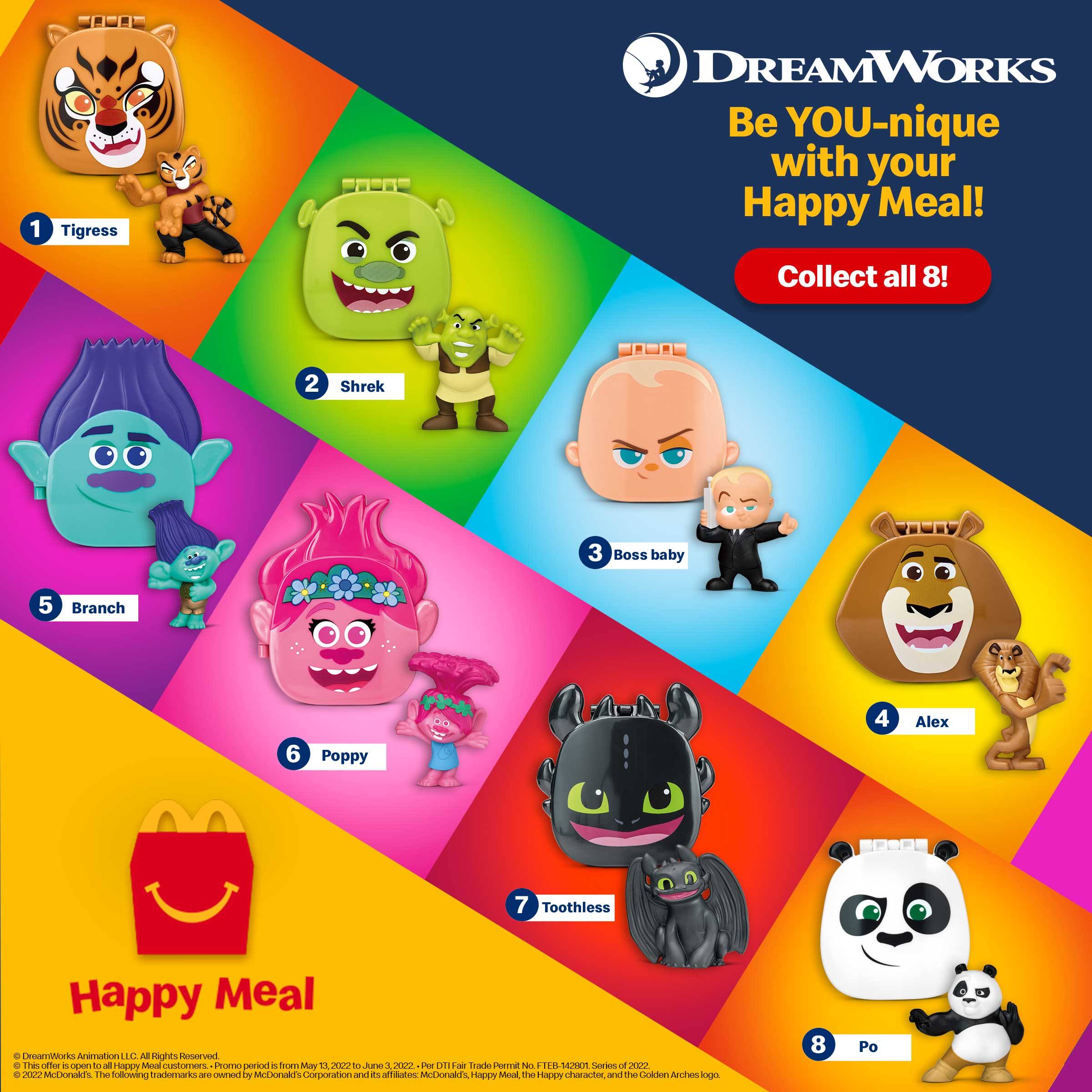 For 25 years and counting, DreamWorks movies and characters have helped enable families to dream and laugh together as they embrace each one's quirks and uniqueness. McDonald's also celebrates this and encourages families to enjoy bonding moments made more fun through the DreamWorks Happy Meal! 
In this new collection, McDonald's encourages kids to be proud of the quirks that make them unique and to inspire families to be their most authentic selves. The well-loved DreamWorks characters that have brought entertainment to the entire family now come in mini figurines! DreamWorks Happy Meal features the gigantic and green-skinned ogre Shrek, the easy-going Panda Po & the fearless Tigress from Kung Fu Panda, and Alex the Lion from the light hearted family film Madagascar. 
Joining the collection are the playful & loyal Night Fury dragon Toothless from How to Train your Dragon; the colorful and perpetually-happy Troll Princess Poppy and good-hearted Branch from the fun movie Trolls; and finally, the eccentric big boss Ted from the Boss Baby.
 Each Happy Meal toy comes with a mini figurine, card environment, pop up/reveals, and stickers that kids can enjoy, which also functions as a keychain that can be used for kids' bags! Display the quirky and fun characters as a reminder to stand out and be YOU-nique.
Find greatness in the unconventional and quirky characters of the new McDonald's DreamWorks Happy Meal by heading over to the nearest branch for Dine-In, Take-Out, Drive-Thru, or via McDelivery until June 9 only!
 For more information and updates on this offering, visit McDonald's Philippines on Facebook, Twitter, or Instagram.