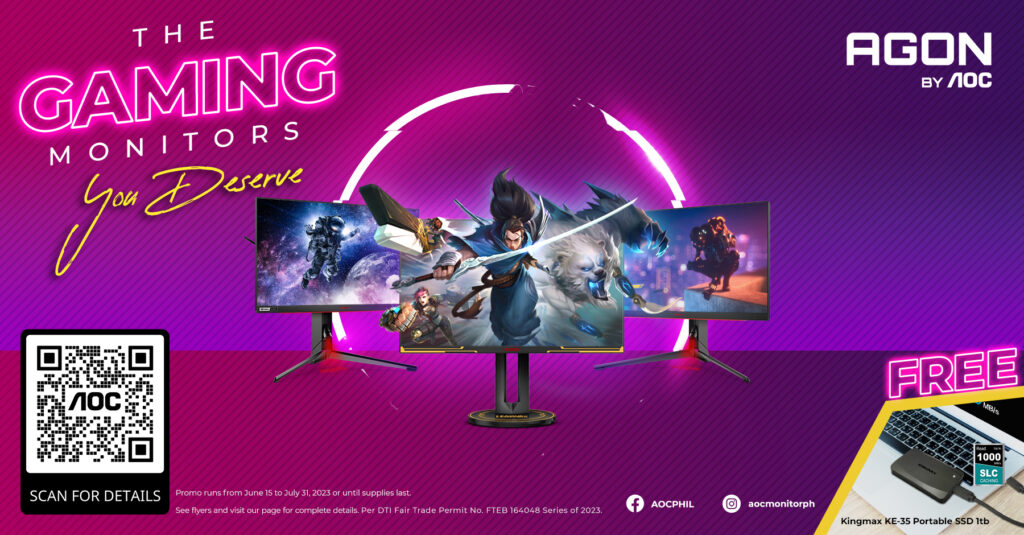 AOC Monitors, in partnership with Kingmax, is giving customers The Gaming Monitors You Deserve in its latest promotion, running from June 15 to July 31, 2023. In this promotion, AOC Monitors will be giving its customers a free Kingmax KE-35 Portable SSD 1TB worth PHP5,800.00 for every purchase of participating AOC Gaming Monitor Models, which includes the Limited Edition AG275QXL, the first-ever gaming monitor made specifically for League of Legends fans:
MODEL PRICE SPECS FREE
AG324UX ₱ 43,599.00 4K UHD, IPS, AdaptiveSync, 1ms, 144Hz, USB-C Kingmax KE-35 Portable SSD 1TB worth PHP5,800.00
U28G2X ₱ 31,269.00 4K UHD, IPS, AMD FreeSync Premium, 1ms, 144Hz
AG254FG ₱ 35,995.00 360Hz, 1ms, G-sync, HDR400
AG275QXL ₱ 26,710.00 QHD,170Hz,1ms,G-Sync Compatible, LOL Monitor
AG274FZ ₱ 24,199.00 260Hz, 0.5ms, HDR400,G-sync compatible
AG322FCX ₱ 19,990.00 AMD FreeSync, Curved Monitor, 1ms, 144Hz
Customers will be able to redeem their free Kingmax Portable SSD 1TB through our redemption website at https://www.aocmonitorspromo.com. By providing their information in the form in the redemption portal, the customer will receive their confirmation email within the next 48 hours, and could expect the arrival of their free Kingmax 1TB Portable SSD to their shipping address via courier, free of charge.
Stocks are limited, so make sure to take this opportunity to score a free SSD when you purchase the AOC Monitors listed above. Remember, you can't game if you don't have the storage, and the bigger the storage, the more games you can have installed and play. So, head on to the nearest store that carries AOC Monitors near you, and score a free SSD when you get the Gaming Monitor You Deserve from AOC.
About AOC
Founded in 1967, AOC is a globally leading monitor and IT accessories brand and a subsidiary of TPV Technology Limited, the world's largest LCD manufacturer. AOC's comprehensive product portfolio provides innovative, ergonomic, environmentally conscious and stylish solutions for professional as well as personal applications.
The AGON by AOC sub-brand of offers one of the world's strongest portfolios of high-performance gaming monitors, and a complete ecosystem of gaming accessories grouped in three categories: AOC GAMING for core gamers, AGON for competitive gamers, and AGON PRO for esports enthusiasts and professional esports players. Since 2020, AGON by AOC has been one of the leading gaming monitor brands and a top choice of gamers worldwide.
For more information, please refer to AGON by AOC's official website or follow AGON by AOC on Facebook.