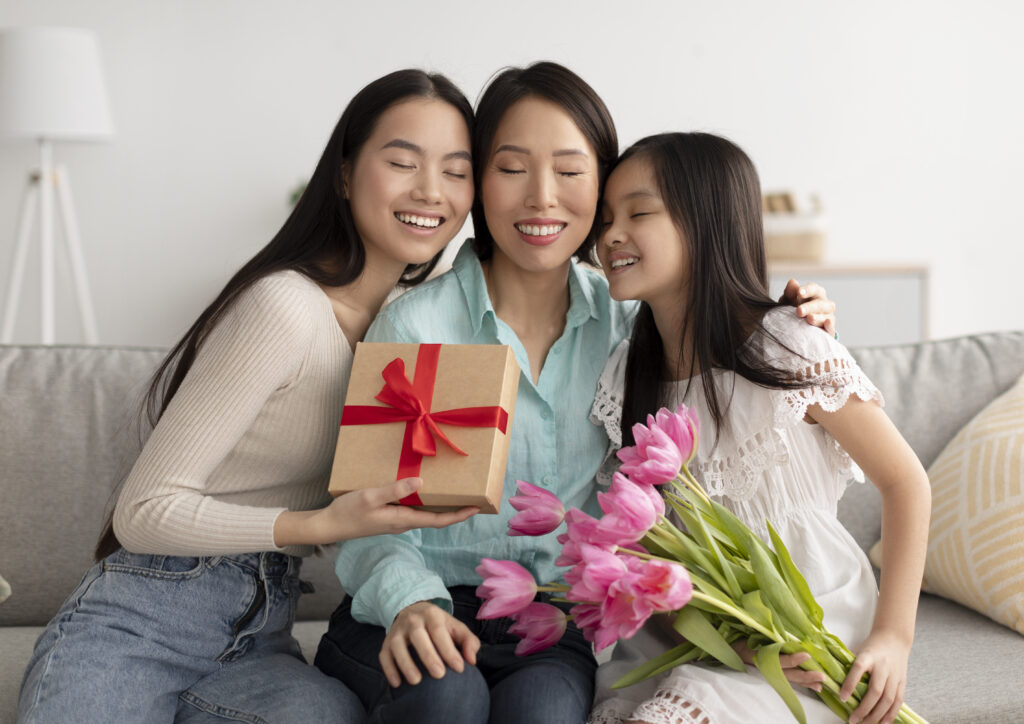 As the saying goes, "A mother is one who can take the place of others but whose place no one else can take."
More versatile than any famous Hollywood or K-drama celebrity, moms can play any role in their children's lives — from teacher and doctor, to cook and driver. They spend most of their lives caring for their children, often putting their own needs and wants last, even when their kids are no longer kids.
This Mothers' Day, why not give your mom the gift of health? It's a good way to shower your mother with love and attention while ensuring her well-being. It's a good way to shower your mother with love and attention while ensuring her well-being.
Here are five lasting gifts that will surely last longer than Mother's Day:
1. Cook a healthy meal.
Food is a love language in Filipino households. When you were young, your mom most likely packed your school lunch or cut and peeled fruits for you while you watch your favorite cartoon shows.
Cooking your mom's favorite meals is an act of love she will appreciate. She'll recognize it as your way of saying "thanks" for all the times she cooked for you and remembered your favorite dishes. Plus, the great thing about prepping food yourself is knowing what ingredients go into it. This is especially helpful if your mother has to observe dietary restrictions. The meal doesn't have to be elaborate or fancy. Focus on making nutrient-rich, heart-healthy dishes, from the heart.
2. Take her for a routine check-up.
Regular health checks are vital for older adults. These ensure your mother's health is in good form as she ages. Accompany your mom to her doctor's appointment especially if she's already in her golden years and need help moving around and getting to and from the hospital.
This gift doesn't have to be limited to Mother's Day, of course. You can turn it into an annual or bi-annual routine and even make a day out of it. After her appointment, you can take your mom out for a nice meal or a massage.
3. Make it a spa day.
A spa day makes a great Mother's Day gift. A deep-tissue massage can do wonders for your mom's physical and mental health. It improves blood circulation and reduces muscle tension and stiffness and joint inflammation. Combined with a facial treatment and a cup of herbal tea, a spa day will help your mother relieve stress, alleviate body pains, and get a good night's sleep.
Going to the spa together is the perfect opportunity to bond with your mother as well. You can chat and catch up while enjoying a relaxing massage.
4. Sneak some sweat in!
Physical activity is another key component to aging well. Encourage your mom to stay active by doing some light exercises with her. Exercising together can make the experience much more fun for her, which can inspire her to do it regularly on her own.
You can take her out for a walk in the park or do some yoga flows together. If your mother is athletic, then a round of badminton or bowling would be more up her alley.
Another excellent Mother's Day gift idea is paid classes. You can get your mom class passes for Zumba, yoga, tennis, or whatever form of physical activity she prefers to encourage her to stay active.
5. Get her a health protection plan.
Selfless as they are, parents tend to focus on their children first and prioritize their own health last. If this is the case with your mom, then a health insurance would make the perfect gift. Having health coverage gives both you and your mother peace of mind in case of unexpected sickness or serious medical problems. Some policies also come with cash benefits, which your mom can use to pay medical expenses, pay off debts, or for anything else she needs extra funds for.
If you're in the market for a health insurance policy specifically designed for older adults check out Sun Grepa Senior Care which is offered by Sun Life Grepa Financial, Inc., a major life insurance company in the country. It addresses the life and health protection needs of senior adults by providing financial security for medical issues that commonly happen in later years. Sun Grepa Senior Care protects your mother's hard-earned savings even after retirement so she can embark on new life adventures worry-free. Visit www.sunlifegrepa.com to learn more.
On Mother's Day, carve some time out of your busy schedule to shower your mom with the love she deserves. Consider giving her the gift of health, so you can inspire her to take care of herself the way she does for others.