- Advertisement -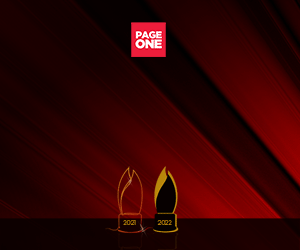 An exciting way to enjoy chicken opened its newest branch in Legarda, Sampaloc Manila, 24 Chicken Delivery Manila provides quality and efficient products and services. It's not just your ordinary chicken but, they offered a wide selection of variety, Korean flavored chicken that would surely suits your taste and cravings.
The quality of their products has the best value for money, they also promotes the Korean way of sharing their food as they serves and delivers chicken on different sizes depending on your budget and on your needs. It is also best for busy people who doesn't have time to cook or go to the market to prepare delectable dishes.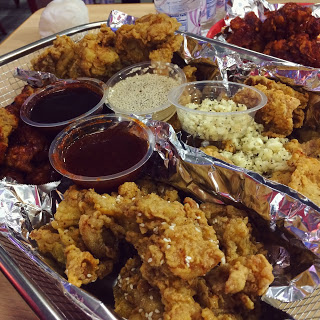 You can choose from the wide selections of their flavors, they have the Original, Garlic, Jack Daniel's, Lemon Glazed, Spicy Barbecue and the three types Yangnyeom ( Yangnyeom 🌶, Yangnyeom 🌶 with Garlic and Yangnyeom 🌶🌶).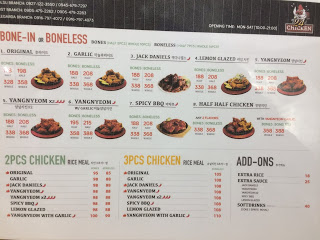 Here's my personal recommendation according to how I like the taste.
1. JACK DANIEL'S the chicken and the whisky flavor blends well. It has a great balance of flavor and goes well with other dishes like noodles, rice and perfect for drinking too. If your worried about the alcohol content, you don't have to think about it as alcohol evaporates during the process of cooking, therefore it retains only the flavor and not the alcohol.
2. SPICY BARBECUE, I like the way how they prepared and balanced the flavor of the sauce with the chicken. It doesn't over power the flavor of each ingredients. Since I love spicy food, this is one is also part of my favorite. It is perfectly seasonal and spiced, and has a smooth texture. It has a good intensity of the chili flavor but it doesn't give a chocking sensation when your eating it. Definitely everyone can enjoy it. Plus I love how the spicy bean paste goes well with the barbecue flavor.
3. YANGNYEOM, on the third spot is the Yangnyeom. It has a sweet and spicy authentic Korean taste. It has the exquisite mixture of flavor that's not too sweet.
4. GARLIC, Yangnyeom and Garlic goes well together so I would suggest to order half of each so you would have a different experience of flavor and texture. This one goes perfectly with the fresh garlic toppings which gives you the freedom on how garlicky you wanted your chicken to be. So if you're a garlic lover perhaps you might want to try this.
5. On the fifth spot is the LEMON GLAZED. it has the hint of sweet lemon taste, perfect for all ages.
All of their products are good the ranking above is just based on how I liked it. What's good about their chicken is it has a good texture. The chicken is juicy and tender. You can enjoy it even if it's not hot, and if your going to reheat it, it doesn't get saggy, dry and hard. Plus the price of their servings are reasonable and affordable. The portion per serving is quite generous for a Korean Chicken.
Whilst eating the chicken we had a chance to talk to the owners, their vision of providing fast and affordable products and services will definitely be loved by its customers. We all know that Korean chicken in Manila is not very affordable, what they wanted to do is to allow more and more consumers to afford and try a great tasting food. Their vision in doing the business is not just to gain profit but to bring joy to its consumers.
Don't forget to follow and like their social media page.
Instagram: https://instagram.com/24chickenph
Facebook: https://www.facebook.com/24chickenph/
Posted by: JC Salud