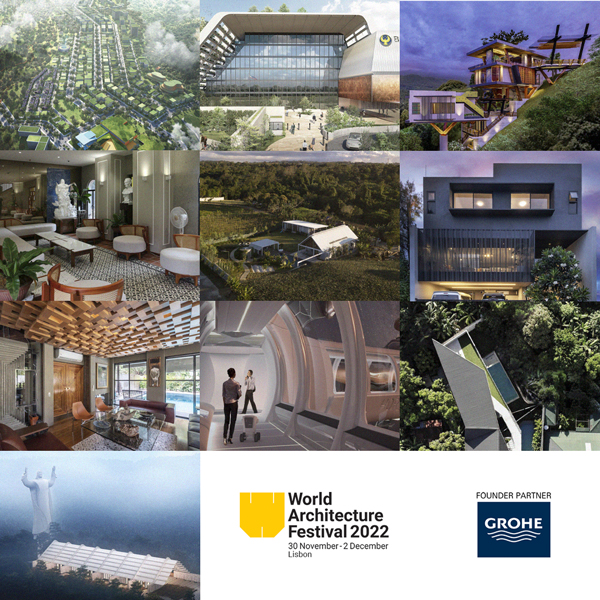 Ten projects by 8 Filipino designers and architects have been shortlisted as finalists in this year's World Architects Festival (WAF), one of the world's most prestigious annual festival and awards ceremony in the architecture and development industry. Not only is this the most typologically diverse showing for the Philippines yet, it is also the most number of Filipino designs that have been selected for WAF, topping the previous record.
GROHE, a founding partner of WAF and leading global brand for complete bathroom solutions and kitchen fittings, supports the local designers, some of whom are veterans and previous winners of WAF, namely previous winner BAAD Studio, last year's WAFX special prize winner WTA Architecture and Design Studio, Highly Commended recipient BUDJI+ROYAL Architecture+Design, Jorge Yulo Architects and Associates, and HANDS Design Studio. In addition, three design firms also make their WAF shortlist debut this year: Studio Fuerzo, DST Design+Build, and Davao-based BERSABARC Design Studio.
This year's WAF theme is "Together" in order to consider how architecture is responding to the renewal of collective life post-pandemic and committing to combating climate change. In line with the theme, it has also been three years since the global community of architects and designers have been able to meet in-person at WAF. It will be an opportunity for speakers and panels to discuss issues and conditions which relate to the collective use of architecture and public space in a variety of settings, including changes as a result of health considerations and how domestic life, workplace culture, and social engagement is operating in our new world.
"The pandemic has changed how we live at home and at work. Each year, climate change is also becoming a more pressing issue and an important consideration in building homes and office buildings. With these in mind, GROHE looks forward to WAF where the talent of Filipino designers and architects will be on full display for the world to see. GROHE is proud to support local architects and designers and their designs that are unique to the Pinoy perspective of what we've experienced of the pandemic and climate change in our country," said Hermie Limbo, LIXIL country general manager.
WAF award categories are Completed Buildings, Future Projects, and Landscape. Aside from the WAF awards, there will also be special prizes, such as the WAFX Award, among others. The WAFX Award celebrates cutting-edge design approaches to address major world issues, such as the climate emergency.
Looking back on the online Crit sessions at the WAF last year, Jorge Yulo, who is also a finalist this year, said, "They look for your narrative and the social and environmental responsibilities you addressed. Aesthetics takes a back seat after the shortlisting."
Vying for the Completed Buildings award, under the House & Villa, Urban/Suburban category, are Jorge Yulo Architects and Associates with their entry, "Equilateral House," and BUDJI+ROYAL Architecture+Design with "Pandemic House." For the House & Villa, Rural/Coastal category, BAAD Studio submitted, "The Mendoza Farmhouse." For the New and Old category, Studio Fuerzo's entry is the "New Provincialate House," while under the Hotel and Leisure category, HANDS Design Studio's entry is "Casa Tropica."
In the Future Projects award shortlist, under the Civic and Community category is BAAD Studio's "Pilgrim's Shelter." For Competition Entries, there are BERSABARC's "Hexarion Martian Colony" and WTA Architecture and Design Studio's "BSP Security Plant Complex." WTA Architecture and Design Studio also submitted "Batangas Forest City" for the Masterplanning category. Rounding out the finalists is DST Design + Build's "The Tree House Project" in the House category.
Speaking of his WAF experience last year, William Ti, who is also a finalist this year with WTA, said, "I remember a comment about how there seems to be something going on in Philippine architecture with many more projects getting in to WAF. This makes me feel proud about how far we've come and look forward to the time when Filipino architecture can be recognized globally."
The Filipino finalists will join the other shortlisted international contestants for WAF in Lisbon, Portugal from November 30 to December 2.  As part of the competition, they will take part in Live Crit Rooms, which are unique live-judged awards programs. The Live Crit Rooms are also opportunities for them to discover inside knowledge of the most outstanding projects in the world and gain invaluable insights from a panel of expert judges, who are world-renowned architects from leading practices.
Launched in 2008, the World Architecture Festival is the world's largest annual international architectural event and includes panel discussions and talks by leading global architectural thinkers and industry personalities.
To know more about the Filipino designers, follow GROHE's official Facebook page, https://www.facebook.com/GrohePacific. To know more about the World Architecture Festival, visit https://www.worldarchitecturefestival.com/.